From Restauranteur to Quilter …
They say everyone has at least two careers in their lifetime. It's true for Alvina, owner of Quilters' Den. She spent years in the food industry, starting off as a server and ending up running her own  successful restaurant with the help of her husband, Ernnie. After many years of success it seemed like the right time to step away from the business, with its long hours and daily grind. With the restaurant sold Alvina wondered what was next.
She had time on her hands: no business, no kids still at home, no hobbies. She'd never really had time to develop a hobby over the years. One day a friend suggested she go to the local quilt shop, the Quilters' Jewel, and buy a kit, after all she'd sewn skating costumes for her girls. Maybe she'd like quilting. She bought the Braid Runner kit … and YES, she loved making it! She loved it enough to dive head first into the wonderful world of quilting.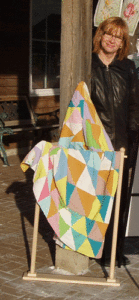 What hooked her? Alvina loves the fun and challenge of colour. What colours look good together? In what amounts? What fabric prints balance each other? Complement each other? That's the joy of quilting. Well, that and the fun of adding in the colour and texture of thread through quilting and thread play.
Within a short while Alvina was working at the quilt shop – soaking up quilting tips and techniques. She was a quick and eager learner and soon was helping customers choose fabrics and patterns for their projects.
Incredibly, it was only a few short years later that Alvina knew her next business venture would be a quilt shop … so she bought the very one where it all began! She renamed it Quilters' Den. Her goal is to provide beautiful fabrics and quality supplies for today's creative quilter.
It's always an exciting process to choose fabric for Quilters' Den. Fabric lights up the store with colour and design. Fabric lights up the customers with ideas and inspiration. Alvina still can't believe she's able to spend each day surrounded by colour!
Alvina comes by her sewing skills honestly. Her mom sewed many clothes for her children. One of Alvina's treasures is a quilt made by her mom who passed away all too early in life. It's made from the fabric of childhood dresses. It's simple, it's fortrel, and it's filled with memories and love. Alvina continues the legacy left to her by her mom, adding her own creative spark and a contemporary flair.