Class Registration Policy
A non-refundable class registration fee must be paid in full to confirm your spot in the class.
There are a limited number of spaces for each class so please sign up early to avoid disappointment. If class is cancelled due to low registration, a refund will be provided.
We reserve the right to reschedule classes due to inclement weather or other unforeseen circumstances.
Annual Quilting Retreat 
April 2020
Anual Quilting Retreat at the Quality Inn in Winkler.  Registration fee $175.  Includes Friday Supper, Saturday breakfast lunch & supper, and Sunday brunch.  Also space for sewing.  Rooms are extra and can be reserved at the Quality Inn at 204-325-4381.  To register for retreat call the store at 204-822-3105.  Classes are available to sign up at retreat.
Fall Class for 2019
Basic Class Supply List
Sewing Machine– must be in good working condition with ¼ foot or able to move needle position, and manual
Embroidery sewing machine for embroidery classes
24 inch long ruler and rotary cutter                                                                 Square up Ruler (Min. 6 ½ " square)
Marking tools, (pencil, iron away marker)                                                    Small scissors, paper & fabric
Thread to match fabrics                                                                                        Best Press (Starch)
Seam Ripper                                                                                                                Pins
Note pad and pencil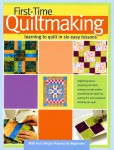 First Time Quilting         Cost $225
Thursday, September 19, 26, & October 17; 6:30 p.m. – 9:30 p.m.
An easy project that gives you just what you need to know to start and finish. Class includes all fabrics including binding and backing, batting, thread, book, use of sewing machine, and step by step instructions.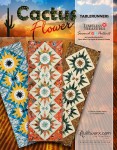 Paper Piecing – Cactus Flower Table Runner Cost        Cost $195.00 
Tuesday, Sept. 17, 24, & Oct. 8; 6:30 p.m. – 9:30 p.m.      
A Judy Niemeyer Pattern using foundation paper piecing. Class includes fabric to make the top of the table runner, pattern, and step by step instructions.  Does not include backing, and quilting (finishing with sandwiching, quilting, & binding).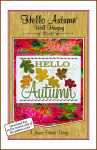 Hello Autumn Embroidery Hanging                Cost:  $65.00
Saturday, September 21, 9:00 a.m. – 3:30 p.m. Bring a bag lunch
Enjoy using your embroidery sewing machine making this simple wall hanging using appliquéing method.  Class includes fabrics, stabilizer, pattern, and step by step instructions.  Does not include backing, batting, and quilting.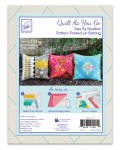 Quilt As you Go Pillow Cases           Cost: $75
Saturday, October 12   12:30 p.m. – 4:30 p.m.
Home decor meets quilting cottons in this quilt as you go three-pack of printed batting pillow covers. Three different pillow cover patterns are printed on batting for easy sew-by-number construction. Class includes fabric and pattern.
Up coming classes for 2020
Libs Elliott Trunk Show and classes
More information to follow